KSEM Router 1.0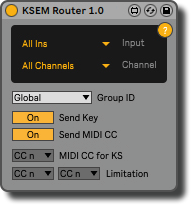 This update introduces a new friend of the KeySwitch & Expression Map – the KSEM Router. This kind of feature was often requested by you, since not all users have a MIDI controller that supports instant mapping with a native control surface for Ableton. Now you can record MIDI CCs for the Arrangement View as you would normally do it with the MIDI clip.
If you use a second keyboard for your key switches, you can even say goodbye to annoying ghost notes in the MIDI clip which usually occur when you record articulations manually with the keyboard!
You can read more about the new tool here in the support section and download it there for free.
Please note: The KSEM Router is based on a new feature in Max 8.1.6 and Ableton 11 and unfortunately will not work in Ableton 10 or 9.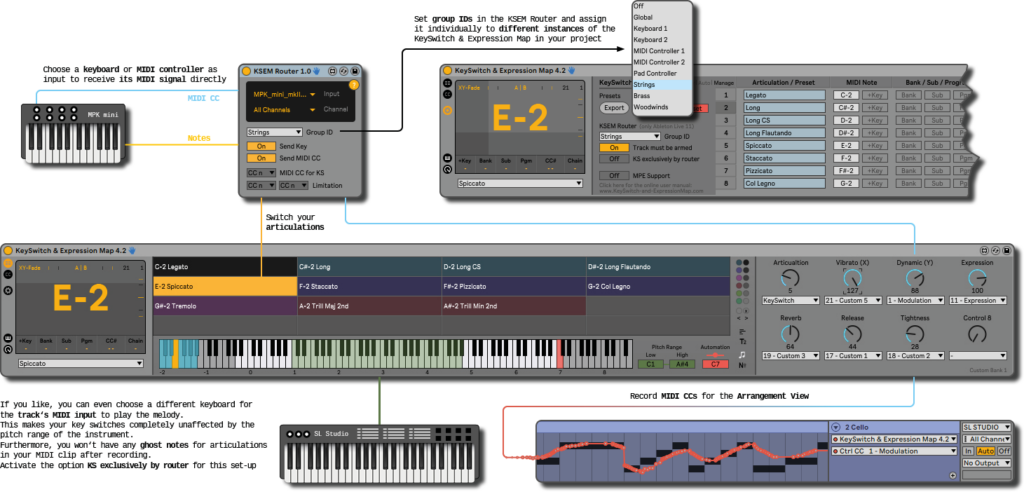 Drag & Drop Presets
What bothered me personally a bit was that you always had to click through to the Manage tab of the KeySwitch & Expression Map when importing presets. Maybe it was the same for you? In that case, you can now simply drag & drop the file from the Explorer or Finder onto the KeySwitch & Expression Map and speed up your workflow!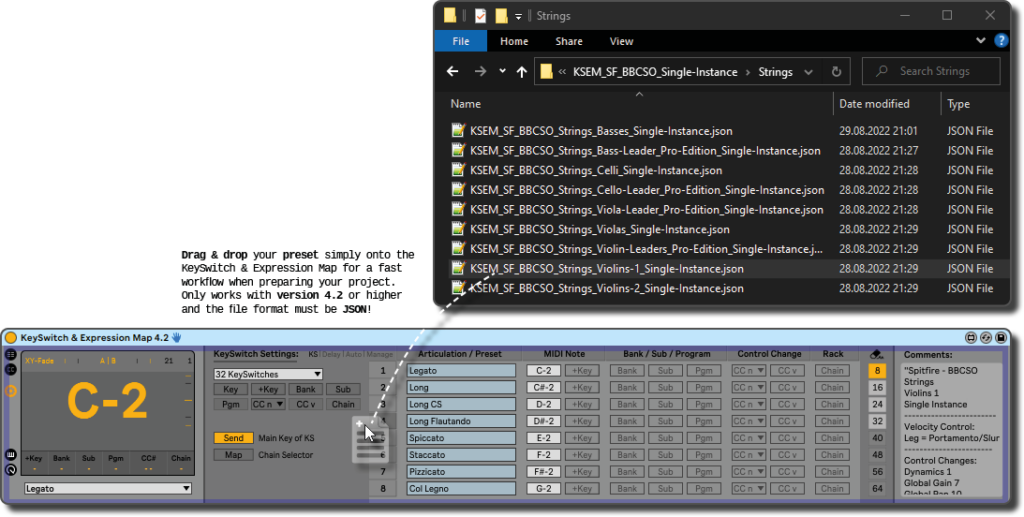 Bug in the dark colour themes
I fixed a small bug in Ableton's dark themes that occurred when reloading projects. The background colour of the custom CCs became light gray. Unfortunately quite unreadable when the font is white! Sorry if you had problems with this. I unfortunately did not notice it until I was working with a different colour theme than usual. When changing the theme in my tests the problem did not appear 🙁
New presets for download
Last but not least, check the download page for the presets. Several new ones have been added in the last months:
VSL Synchron Strings Pro
VSL Synchronized Woodwinds
VSL Synchronized Single Woodwinds Package
VSL Synchronized Solo Strings
VSL Synchronized Solo Strings Sordino
Spitfire Abbey Road 2
Spitfire BBC Symphony Orchestra
Spitfire Symphonic Strings
Spitfire Symphonic Brass
Spitfire Symphonic Woodwinds
Spitfire Chamber Strings
Spitfire Bernard Herrmann Composer Toolkit
Orchestral Tools Berlin Strings
Orchestral Tools Berlin Strings First Chairs
Orchestral Tools Berlin Strings Sordino
Orchestral Tools Berlin Strings Special Bows
Orchestral Tools Berlin Strings Symphonic
Orchestral Tools Amber Downtuned String Quartet
Cinematic Studio Strings (many thanks to Alain Plasschaert)
East West Hollywood Orchestra Opus Edition
East West Hollywood Orchestra Play
Upcoming: Spitfire Studio Strings, Brass & Woodwinds, Spitfire Arperture Cassette Symphony, VSL Brass I and Brass II VI Series
Whenever I have time between two projects, I try to create new presets of my libraries for you. However, it is a lot of work and I could need some help. Have you made presets for yourself? Maybe you want to share them with other users? You can upload them here with a few clicks and you will have the eternal gratitude of the community!!!
Find other new videos on YouTube and subscribe to a social media channel to receive information
about new presets, updates, videos and tools.
The update will be released officially on 18th March 2023. As always, the update is free and you will receive a download link. If not, please write me a message using the contact form.
However, if you like to support the project, I would be happy about a small donation. Thank you!

If you don't have the KeySwitch & Expression Map yet, you can find out more and buy it here.
Have fun making music and I am looking forward to your feedback!
swub