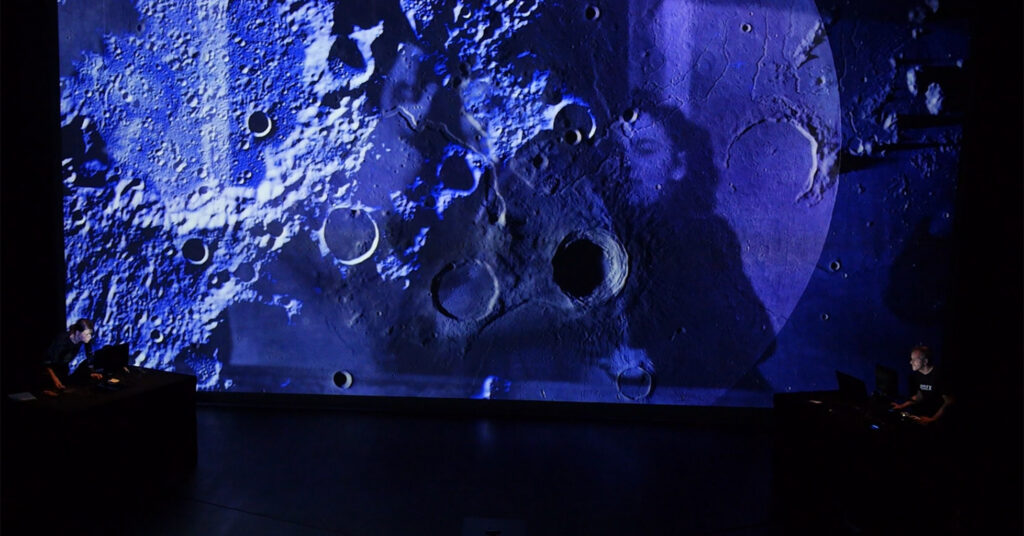 audio-visual theatre show
90 min
live video: A-li-ce
live audio: swub
moderation: JB. Pechberty
8 channel surround sound / French (subtitles in English available)
France 2021
Co-produced by MCB – Maison de la CultureBourges, Ciclic and Antre Peaux, Bourges (FR)
---
Abstract:
After the first successful collaboration for Intruders, THE GATHERING is the second audiovisual performance created in partnership with the French archive Centre Ciclic. This time, images from the past take us to a wild science fiction show premiered at the inauguration of the new national theater MCB in Bourges.
During a historical lecture, the board computer of the spaceship is hacked, on which an annual congress of interstellar colonies is taking place. Before security can be re-established on board through the intervention of surveillance drones,, the audience learns that they are on an uncertain journey to a new home planet.
---
Excerpt from the script:
"As you know, the exoplanet "CVL3741- A", better known as Alpha Terra, was the first planet, colonized by our earthly ancestors. At the beginning of the 21st century, space colonization, once seen as a utopia, has become a concrete project, developed and financed by several private companies, which had already taken control of the public space research structures on Earth during the previous decades.
The technical perfection of the travel modules, necessary to the colonization plan, could indeed take place, thanks to the support of several ambitious millionaires, who organized the first trips, in the solar system, in 2021.
The space tourism has then developed with a growing success, and the multinational company Noveltex, has progressively taken the control, of the whole international space market, by investing in advanced technologies, especially in the development of artificial intelligence.
In 2201, Standard Earth Time, the first drones landed on the exoplanet Alpha Terra, located exactly 6 light years from Earth.
They explored the planet for several months, and collected biological data, on all its surfaces. It turned out that the levels of nitrogen, carbon, methane and oxygen, allowed human beings to go there. A few years later, Noveltex sent the first group of Earth humanoids there.
The objective of the mission was clear: to extract the planet's resources and meet the growing energy needs of the human population on Earth.
They became the first human colony in space, also known as "Colony Alpha Terra".
The mission was a success, and the Noveltex Group continued to expand, soon colonizing the three planets adjacent to Alpha Terra: Delta, Gamma, and Zeta, all four of which are located within the magnetic field of their common star, Alma.
[ … ]
But right after the catastrophe on Zeta, well aware that the same thing would soon happen on the other colonized planets, the Noveltex authorities selected members from each colony, and gathered them on their main spaceship.
And here you are."
---
Images: