Version 2.0
All for one and one track for all!
The KeySwitch & Expression Map is a Max For Live* device which uses the instrument and effect racks of Ableton Live to provide you in a single track the possibility to switch easily between different software and hardware instruments, articulations or effects.
Build your own customized key switches.
Choose between 9, 18 or 27 key switches. Easy to create and individually nameable.
You can control the key switches with your piano, MIDI controller or computer MIDI keyboard.
Use Ableton Live's automation envelopes for comfortable expression mapping in the arrangement view.
Change on the fly between manual key switching and automation.
Automatic or completely customized fill-out options.
The device supports as well ready-made key switches provided by your VST plug-in and lets you control remotely presets or sound banks from keyboards and synthesizers with MIDI messages (CC, Bank, Sub, Pgm).
The design perfectly integrates into the interface of Ableton Live 9 or 10 and offers a great visual feedback on the current settings.
If wished, you can display additionally the pitch range of your instrument.
No noticeable effect on your computer's CPU.
*Attention!
Max For Live is part of the Ableton Live Suite.
If you use Ableton Live Standard you might have to buy an add-on license to use this device.
Ableton Live Lite and Intro do not support Max For Live!
Please find more information here:
https://www.ableton.com/en/live/max-for-live
https://help.ableton.com/hc/en-us/articles/206407124-Buying-Max-for-Live-
---
"Automate your articulations in orchestral compositions with Ableton Live's envelopes and improve your workflow to gain time for creativity!"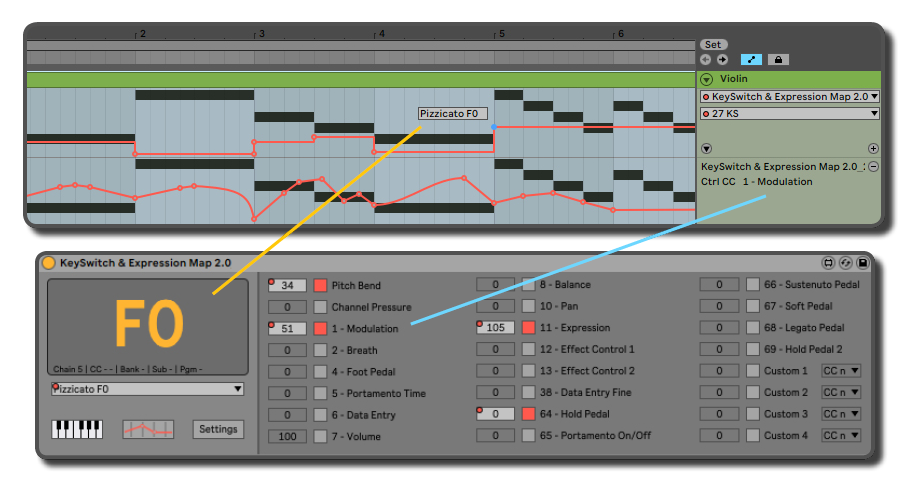 ---
15,00 EUR
+ VAT (depending on your country.)

If you are a pupil, student or you have a small budget, please click here.
---
Set-up
The set-up of the device is not difficult and very straightforward. Please find below a short video tutorial or a detailed manual. Basically, it works like this: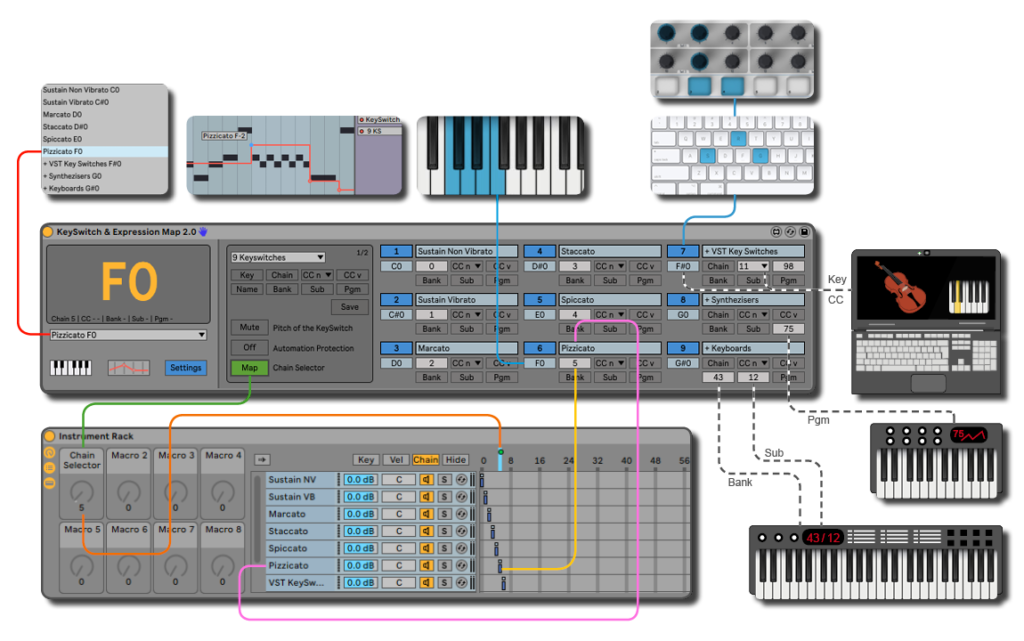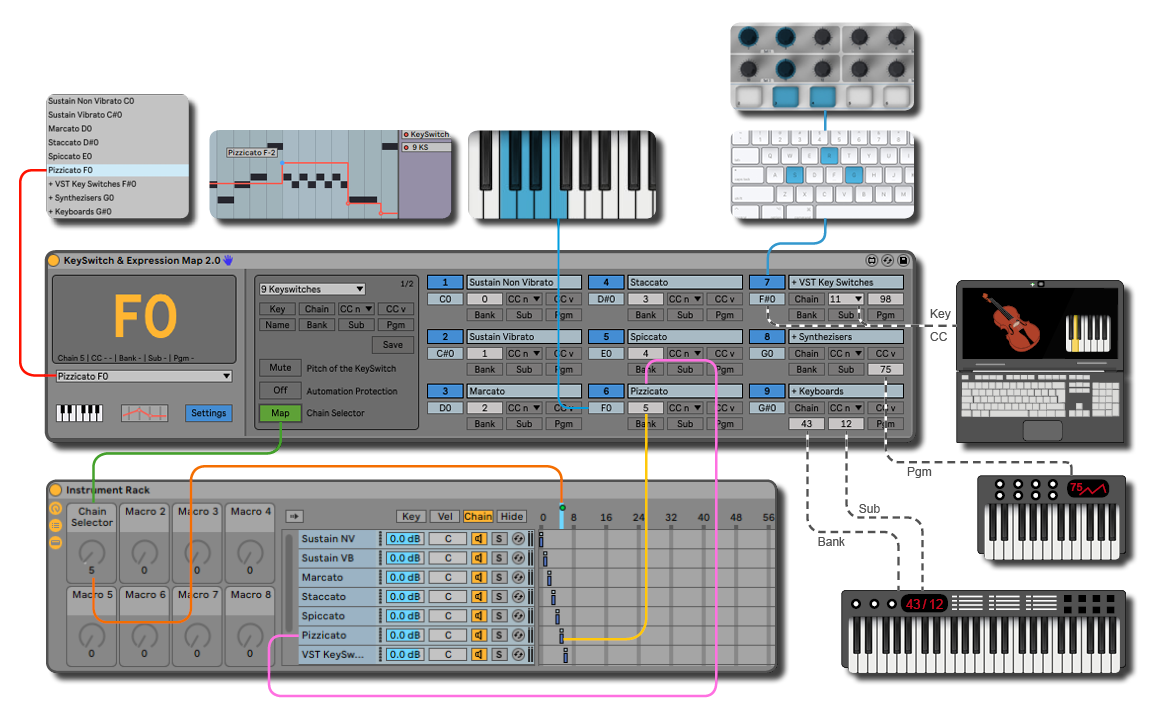 Drag & drop an Ableton Live rack in a MIDI track, load instruments or effects in it and distribute their chain zones.
Add the KeySwitch & Expression Map device, give names and pitches to your key switches and specify for each the chain value according to the defined chain zones in the rack.
Map a macro dial to the chain select ruler and connect the new created dial named "chain selector" with the KeySwitch & Expression Map.
If you want to control remotely presets or sound banks of a single keyboard, sythesizer or ready-made key switch in your VST – it is even easier!
Only define control changes (CC), bank (CC 0, MSB), sub bank (CC 32, LSB, UACC) or program changes (Pgm) for your key switches, enter a name and choose which keys you want to use.
---
"Limited edition? Absolutely! Forget limited key switches in your VST and edit your own one."
---
Video tutorial
For a quick start, you can watch this video tutorial showing you in 5 minutes the set-up and basic features.
The second video shows you first how to connect and to customize ready-made key switches of your VST plug-in. As an example is used the library Hollywood Orchestra from EastWest. Afterwards, you will find some tips and tricks using automation envelopes for articulations. Finally, you can see the KeySwitch & Expression Map in action!
---
Manual
How to do the set-up in detail, you can find in a lovely designed step by step manual with a lot of illustrations, additional informations and some trouble shooting if needed. If you are in a hurry, check the quick start guide which introduce you to the basic set-up in a reduced form.
---
"You don't have to know everything. You just have to know where to find it – all key switches are directly displayed on the piano interface!"

---
15,00 EUR
+ VAT (depending on your country)

If you are a pupil, student or you have a small budget, please click here.
---
Background
I originally created this patch for own purposes, because I did not find any satisfying solution for Ableton Live to manage in a comfortable and clear way different articulations in a single track by playing key switches on a piano or using automation envelopes.
Many VST libraries sound awsome and offer you plenty of articulations that are sampled in great detail. Unfortunately, some of them provide only key switches with a few standard articulations or if at all, very limited options to customize them. Additionally, you can only automate them in your DAW by using anonymous notes or MIDI values which are hard to remember and change from library to library. Where there is Staccato in one, there is Sustain in the other.
Therefore, the only solution to use the full potential of the library is oftentimes to create dozens of tracks with articulations of a single instrument, in which at some point you lose literally track or get a tendonitis from the constant scrolling through them.
Multi-Clip Editing in Live 10 is a great feature to edit numerous tracks simultaneously and has definitely helped to make composing in Ableton more straightforward. But it still didn't allow me to work in the way that I had in my mind. I didn't want to open midi clips and to push notes around just to try out how different articulations would sound in the arrangement.
The instrument racks, which are the basis of the KeySwitch & Expression Map, also offer a lot of possibilities. But can, or rather do I really want to learn the chain values for a whole orchestra with different articulations to know that Sforzando is between 10 and 18, Tremolo starts at 67 and the Trills end at 112?
Finally, I had some time last summer between two projects and decided spontaneously to build my own solution in Max for Live. Euphoric to have finally found my long awaited workflow for orchestral compositions, and encouraged by some enthusiastic musician friends, the idea came up to develop the device in such a way that it would be accessible to anyone else looking for a more natural feeling way to play or edit multiple articulations of an instrument in a single track.
So I tried to imagine what other Ableton users would like to have included in this kind of device. For example, I created the piano interface, added the "AutoFill" function for fast and automatic pitch distribution, the possibility to customize the chain values, the option to protect the automation, and the alternative to control keyswitches as well with the computer MIDI keyboard or a MIDI controller.
It took me a while to implement all these functions, to eliminate the last small bugs and to prepare a detailed documentation. But here we are now and I am very happy to finally release it!
I hope that you will enjoy the patch as much as I do. With the risk that I may sound like a vacuum cleaner salesman now … it has made my workflow so much easier and faster that I cannot imagine working without it anymore. Especially if you create Ableton projects as templates from which you afterwards only need to drag & drop the wished instrument tracks into your new project as needed!
If you have any ideas, wishes or questions, just write me a comment below or send me a message using the contact form. I am looking forward to your feedback!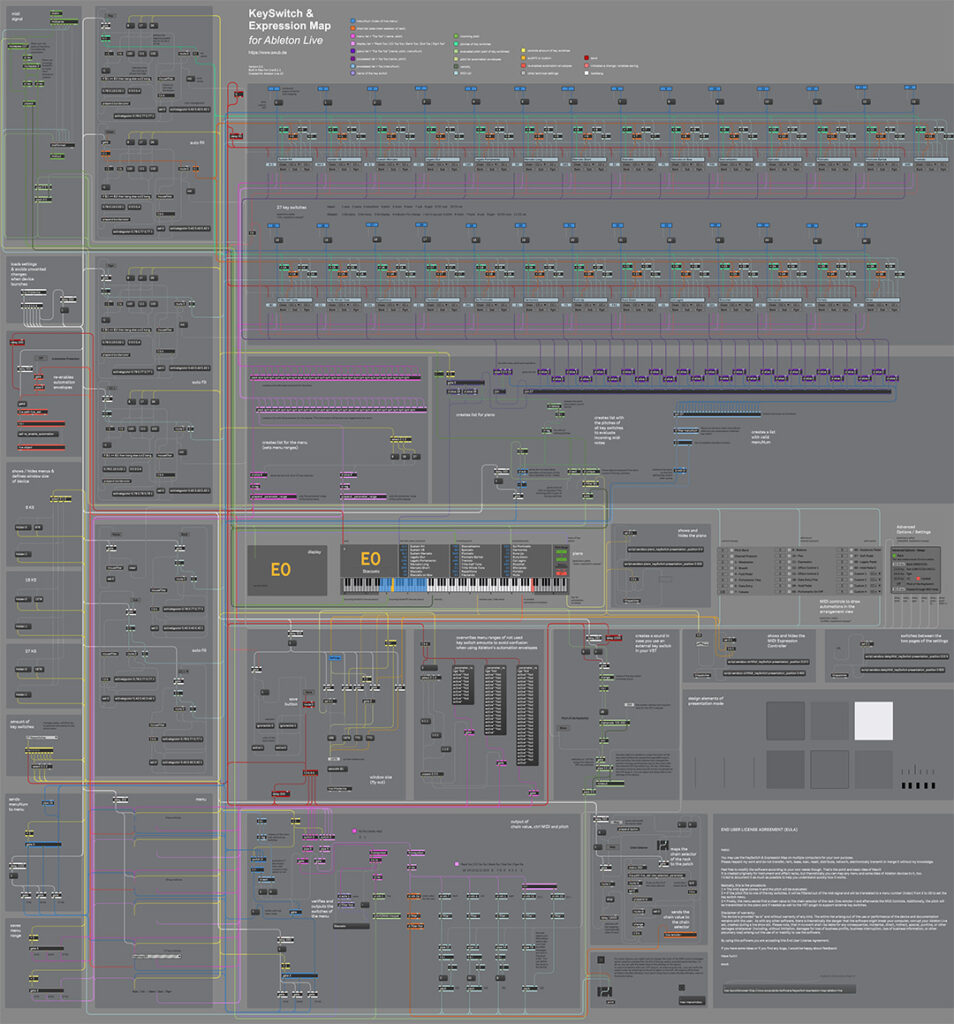 Depending on your country, the payment options may differ.
---

Secured payments provided by:
---
The software was developed with electricity from renewable energy sources.

User Feedbacks:
https://www.reddit.com/r/ableton/comments/gjnnrx/orchestral_composers_rejoice_found_a_max4live/