It took a long time, but finally the next update of the KeySwitch & Expression Map is ready. Completely re-programmed and with new features.
64 Key Switches
Instead of the previous maximum of 27 key switches, you can now choose between 16, 32 or 64. The parameter boxes are now arranged in form of a list. Besides the smaller interface, there is also the advantage that you can sort the key switches. Next to it you will find additionally a text field for comments, in which you can for example write the functions of the used MIDI CCs. This way you can quickly get back to your project even after a longer break.

Export & Import Presets
With version 4.1 it is finally possible to export your key switches to easily reuse them in other projects or to share them with colleagues or other users. For this purpose there is now a new section on the homepage, which is supposed to serve as a sharing platform. In the last weeks I created presets for my libaries, which are already online as a starting point.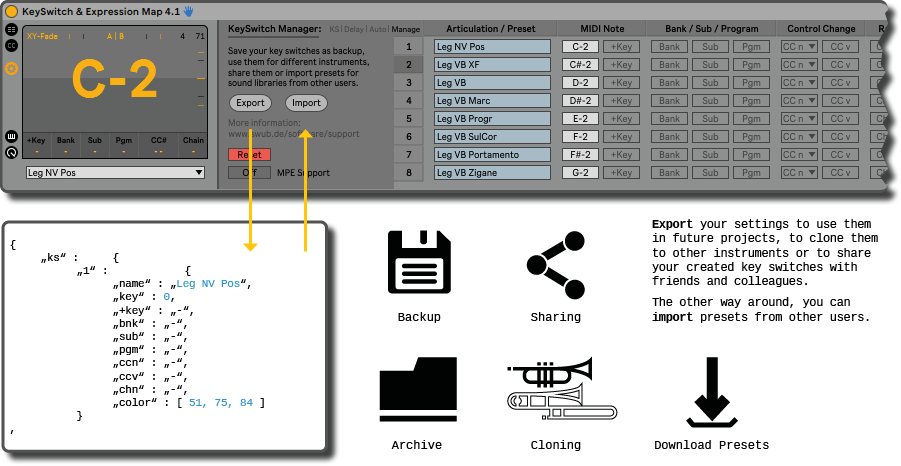 If you like the idea and you have also made presets which you would like to share with others, you will be able to upload them as well on the website. With your help, there might be presets for all common libraries and hardware soon. In that way not everyone has to start from scratch and we can all spare time and make music instead of copying articulation names from a VST player to the Keyswitch & Expression Map;-)
Please note: In order to realize this new feature, I had to completely reprogram the device. So unfortunately it is not possible to just drag and drop it onto the previous version in your Ableton project like with the updates before. But no worries! To make sure that you can continue to use your created key switches and to avoid that all your work is lost, I have additionally programmed little tools for the versions 2 and 3. With it, you can export your key switches into the new format and continue to use them in your future projects.
Unfortunately, this also applies to some of you who have already downloaded the beta version of 4. I had to change something in the formatting of the key switches in the script. But also for you there is a small device to convert your already exported presets. Sorry for the inconvenience!
You can download them here.
KS Control Pad
Before, your articulations, programs or effects were only listed as reference on the piano surface. Now you can click on control pads directly with your mouse or switch between them with the arrow keys on your computer keyboard. For a better overview, you can give the pads colors. Depending on whether you are using the virtual piano or not, you can now hide it in exchange for larger pads. You can also adjust the font size or text justification for better readability.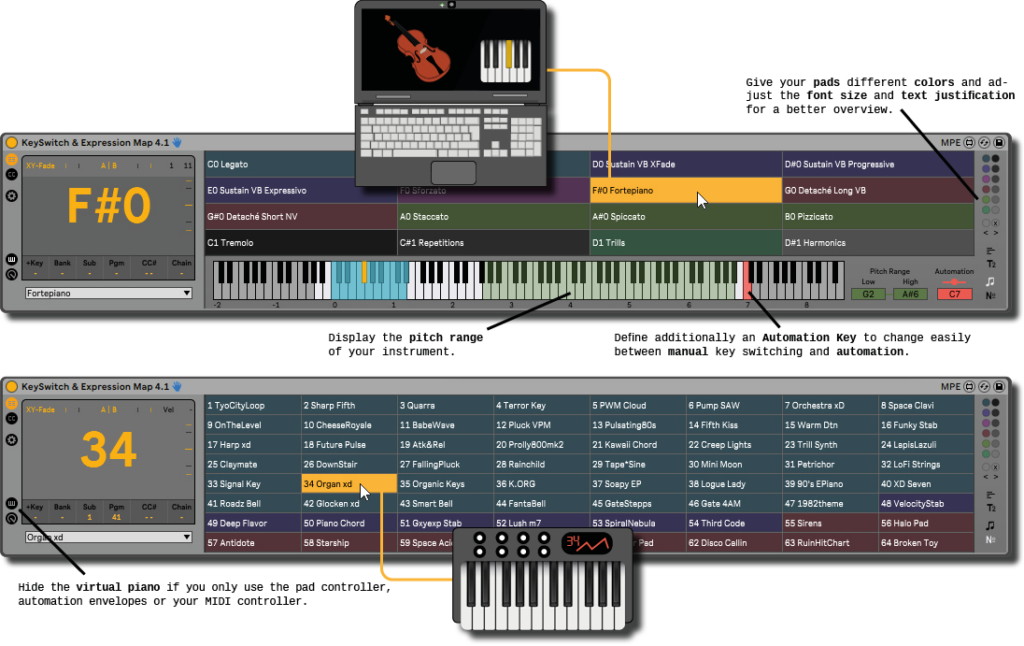 XY Pad & Interface
In the previous version, the display was already showing the values of MIDI CCs or velocity of notes. Now you can also control two MIDI controls simultaneously with the mouse by using it as an XY Pad.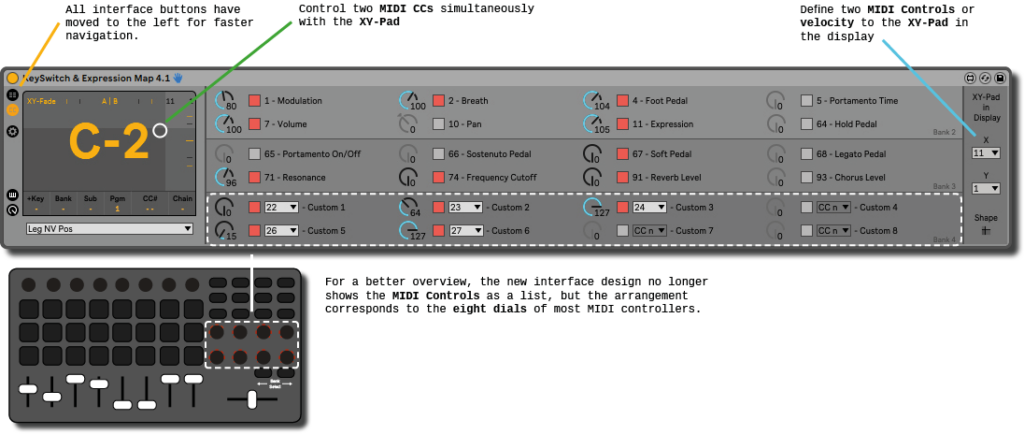 Speaking of MIDI CCs, it might be worth mentioning that they are now arranged in blocks of eight like the dials on most MIDI controllers. The banks for Instant Mapping are also more visually separated from each other by different shades of gray.
Pitch bend and Aftertouch have disappeared in favor of two more custom controls. For all those who will miss them, a small consolation is that another device is planned that will allow the two MIDI controls to be edited again in the Arrangement View.
Finally, all navigation buttons have been moved to the left side for faster switching between the different interfaces of the KeySwitch & Expression Map.
MPE support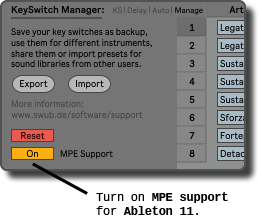 Ableton supports MPE since version 11. The KeySwitch & Expression Map can now pass through the MIDI signal and does not get in the way of your MPE expressions.
Auto Save

With this update, the KeySwitch & Expression Map saves all your settings in the KS-Editor automatically. So you don't need to press the save button anymore after you have made changes.
As always, the update is free and you should have received already a download link. If not, please write me a message using the contact form.
However, if you like to support the project, I would be happy about a small donation. Thank you!

If you don't have the KeySwitch & Expression Map yet, you can find out more and buy it here.
Have fun making music and I am looking forward to your feedback!
swub